Last updated on 28 December 2022
Buses are much more preferred than trains for domestic travel in Bulgaria. The prices are very similar, but buses are two times (or even more) quicker, usually modern and air-conditioned. We also recommend bus travel for casual inter-city journeys.
All major cities have bus connections and also serve as hubs for reaching smaller towns and villages. Many destinations are only reachable by bus, especially along the Black Sea coast and Southern Bulgaria, as there is no railway network in those areas. Buses to villages might be older and less comfortable than the ones operating between bigger cities.
Domestic buses are operated by many private companies in Bulgaria. These have separate timetables and ticket prices. At major stations like Sofia Central Station, each company has its own ticket office with the schedules shown in front.
Services
Bus companies don't provide food or drinks on board. There are no toilets on the buses either. On longer routes, buses take at least one 10-20 minute rest stop at a restaurant, café or shop. These places have toilets as well. Please note that the drivers usually announce the duration of these stops in Bulgarian only.
TIP: Always ask the driver (or an English-speaking traveler) how much time you have as drivers probably won't look for missing passengers before departing.
How to buy tickets
Tickets can be bought at stations, online and often from the bus driver as well. In general it is recommended to buy your tickets the day before your travel. Smaller stations have a single ticket office that sells the tickets of all the operators. Bigger cities will have individual offices for each company. You might need to walk around and check all timetables to decide which operator to choose.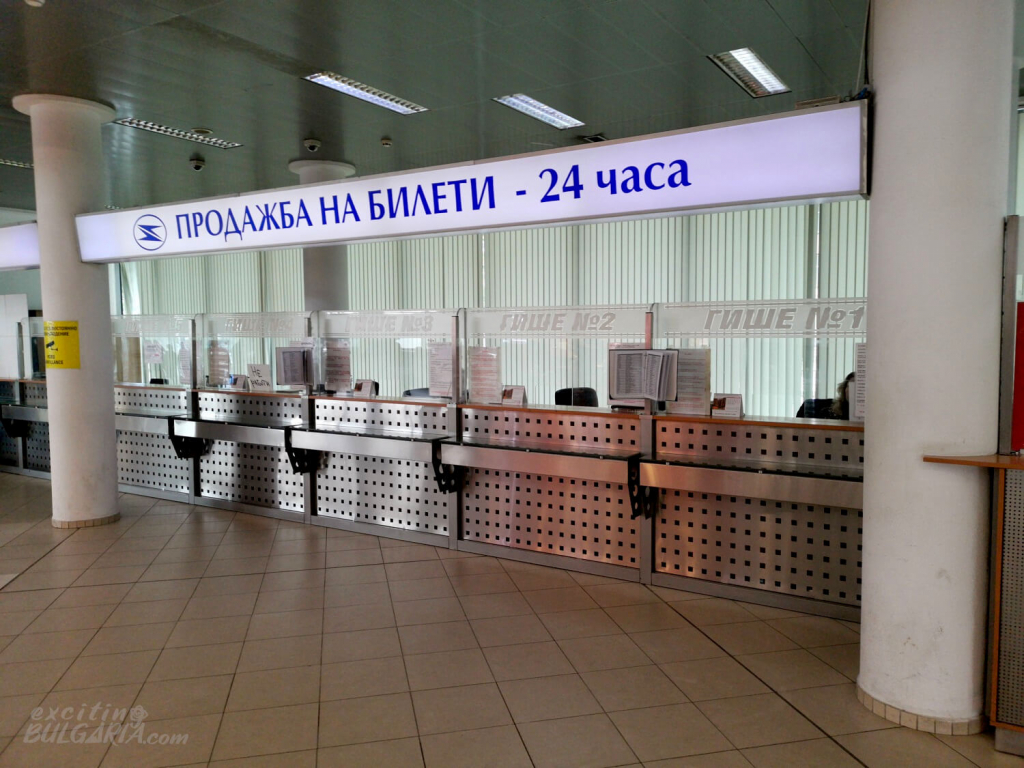 Tickets can be purchased online from operators Union Ivkoni, Etap-Group, Karat-S, Arda Tur, Biomet and Vitosha Express. Please note that Union Ivkoni and Etap-Group do not issue e-tickets, you can't board the bus with the printed confirmation/receipt received by email. You have to collect the actual tickets at the bus station from the operator's ticket office at least 30-45 minutes before departure. Always read the conditions of the operator carefully. Karat-S, Arda Tur, Biomet and Vitosha Express will send you e-tickets by email. Make sure you print these and have with you as drivers will not necessarily accept tickets shown on mobile phones.
TIP: if you are traveling to/from a location that has buses less frequently, we strongly recommend pre-purchasing your tickets at the local bus station the day before your travel. This will ensure you allocated seats on your chosen bus. Although tickets can usually be bought on the buses themselves, popping up just before your departure directly at the bus is not a good idea. You can end up waiting for hours for the next one if your preferred bus was full. The same applies when traveling to any of the sea resorts in the summer.
Ticket types and prices
Return tickets are about 25% cheaper than separate one-way tickets. Open return tickets are usually valid for 6 months depending on the operator. You might be required to select a specific return date 48-72 hours before your travel at the local bus station. Ask for the conditions at the counter when buying this type of ticket.
Children below 7 yrs are traveling for free, but booking a ticket is required.
Some popular routes from Sofia with details and 2023 prices:
| Destination | Frequency | Price range | Duration (hours) | Operators |
| --- | --- | --- | --- | --- |
| Plovdiv | Every half hour | 10-15 BGN | 2:20 (150 km) | Karat-S, Union Ivkoni, Hebros, Arda Tur, Vitosha Express |
| Varna | Every hour | 27-32 BGN | 7 (450 km) | Union Ivkoni, Etap-Group, Biomet |
| Burgas | Every hour | 20-27 BGN | 5:30 (390 km) | Union Ivkoni, Etap-Group, Karat-S, Montana, Aleksiev, Vitosha Express, Struma 11 |
| Sunny Beach | Almost every hour | 30-33 BGN | 7 (420 km) | Union Ivkoni, Etap-Group, Karat-S, Montana, Aleksiev, Vitosha Express, Struma 11 |
| Ruse | Every 2 hours | 23 BGN | 5 (310 km) | Union Ivkoni, Etap-Group, Biomet |
| Bansko | 6 times a day | 16 BGN | 3 (160 km) | Union Ivkoni, Popov, Sonia Tours |
Safety
As a result of recent tragic accidents, from 2019 it is required by law that all buses have seat belts for every passenger. Always fasten your seat belts on the bus for your own safety (and because you are obligated to do so). However, you might experience that older or smaller buses don't have safety belts yet.
Depending on the operator, besides hand luggage, you are allowed to carry one or two pieces of suitcase-size luggage. When using the lower baggage compartment, make sure that the driver places a sticker on your luggage and gives the small receipt to you.
Useful links
Sofia Central Bus Station
https://www.centralnaavtogara.bg/index.php
The English version of the schedule search seems to be broken, showing much less departures than there are actually. You can use the departures timetable on the front page instead.
Operators:
Union Ivkoni

Etap – Group

Karat-S

Arda Tur

Biomet

Vitosha Express