Last updated on 28 December 2021
Saints Constantine and Helena is a cozy seaside resort in northeastern Bulgaria with relaxing parks, mineral hot springs and a unique diving attraction.
Unlike its more famous neighbor, Golden Sands, Saints Constantine and Helena has small sandy beaches divided by rocky coves. It is Bulgaria's oldest Black Sea resort, the constructions began at the end of the 1940's. The complex now has modern hotels, sports and health facilities, yacht marinas, supermarkets, souvenir shops, a pharmacy, a health center, a gas station, a post office, a police station, as well as many bars, restaurants and entertainment venues. One of the landmarks of the resort is the impressive ship-restaurant on the seafront.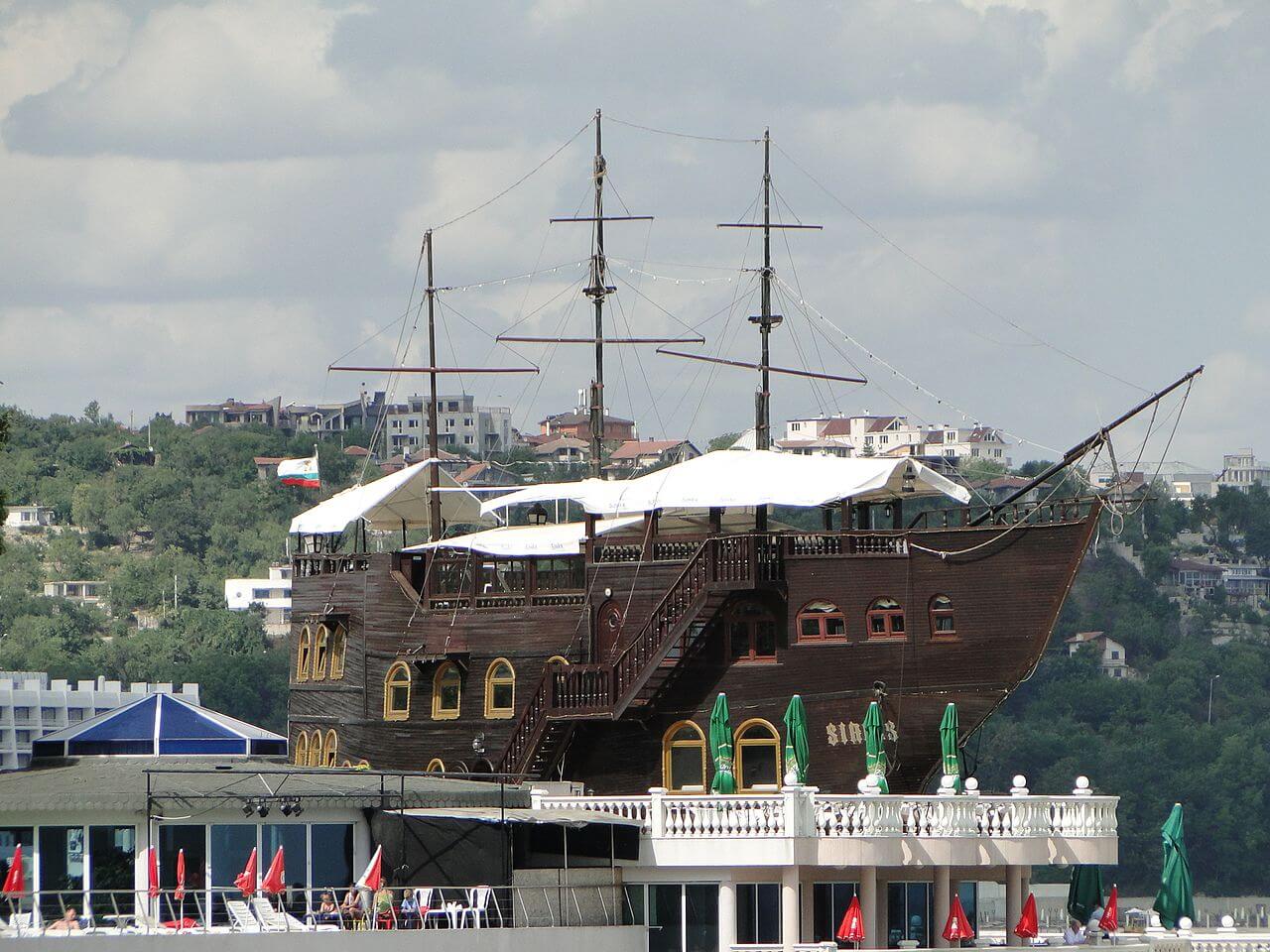 Thanks to its 7 hot mineral springs, the resort has several spa centers that operate all-year-round. The mineral water has a temperature of 40 to 60 °C and is sourced from depths between 1800 and 2000 meters.
Sts. Constantine and Helena has a unique attraction for divers: a 48-meter-long Tu-154 airplane lying on the bottom of the sea, 22 meters below sea level. The aircraft, which earlier served the Bulgarian government for 20 years, is located 700 meters from the marina of the resort. It was purposely sunk in 2011 to be used as a diving attraction. Access to it is free for all certified divers.
The exact location of the aircraft is 43.2234 N, 28.0244 E.
The monastery of Sts. Constantine and Helena is located in the heart of the resort, surrounded by a nice garden. According to the legend, locals found an icon of the Saints Constantine and Helena inside the remains of a shipwreck after a heavy storm. The monastery was founded close to the spot where the icon was discovered. It was probably built in the 16th century, later destroyed and then restored with the help of volunteers. The monastery, that gave the name to the resort, consists of a church, a bell tower and a courtyard. The wooden dome of the church is very impressive with its rich decoration of wood carvings on the inside.
The University Botanical Garden of Varna is only a 15-minute walk away from the center of the resort. Bulgaria's first ecopark is a perfect place for relaxing walks and picnics. The park has a collection of around 250 iris species, a rose garden and archeological findings from the 2nd-4th centuries AD. The entrance ticket for adults costs 4 BGN.
Location and transport
Sts. Constantine and Helena (BG: Св. св. Константин и Елена) is located 9 km northeast of the center of Varna and only 18 km from Varna International Airport. By car, it can be accessed from road 9 (international E87).
Varna public transport bus 31A connects the resort with the downtown of Varna directly. For the detailed route and real-time traffic, visit the municipality's official map here.
Quick facts – Saints Constantine and Helena
Province: Varna
Municipality: Varna (part of Varna)
Population: n/a
Postal Code: 9006
Phone area code: 052