Last updated on 21 December 2021
Balchik is a scenic seaside town and resort in northeastern Bulgaria, built on white limestone terraces.
Balchik isn't famous for its beach but for its beautiful palace complex and botanical garden. The town is also becoming a popular and internationally acknowledged golfing destination with three 18-hole championship golf courses in the area.
The small (only 300 m long), semicircle-shaped central beach is located next to the port of Balchik. Umbrellas are available and can be used for a fee. There is a paid parking area behind the port. The temperature of the sea water here is 2-3 degrees lower than in the southern regions of the Bulgarian Black Sea coast.
Balchik has a history dating back thousands of years. It was founded by Thracians, then ruled by the ancient Greeks, later it developed to an important fortress. Currently it has 11 000 residents. Before becoming a tourist destination in the 20th century, the town was a significant port for exporting wheat.
Balchik Palace
The Balchik Palace, located 17 meters above sea level, was built between the two world wars, when the town belonged to Romania. Being right on the seafront, it was the favorite summer residence of the Romanian queen Marie. The complex consists of residential villas, a wine cellar, a minaret, a Christian chapel and many other buildings, some of them serving as tourist accommodation nowadays.
Opening hours
Summer: 08:00 – 20:00
Winter: 08:30 – 17:00
Entrance tickets
Adults – 6 BGN
Children (age 7 to 18) – 2 BGN
Children under the age of 7 – free of charge
Disabled people – free of charge
Family ticket – 12 BGN
Group tickets can be issued on request, but only in advance.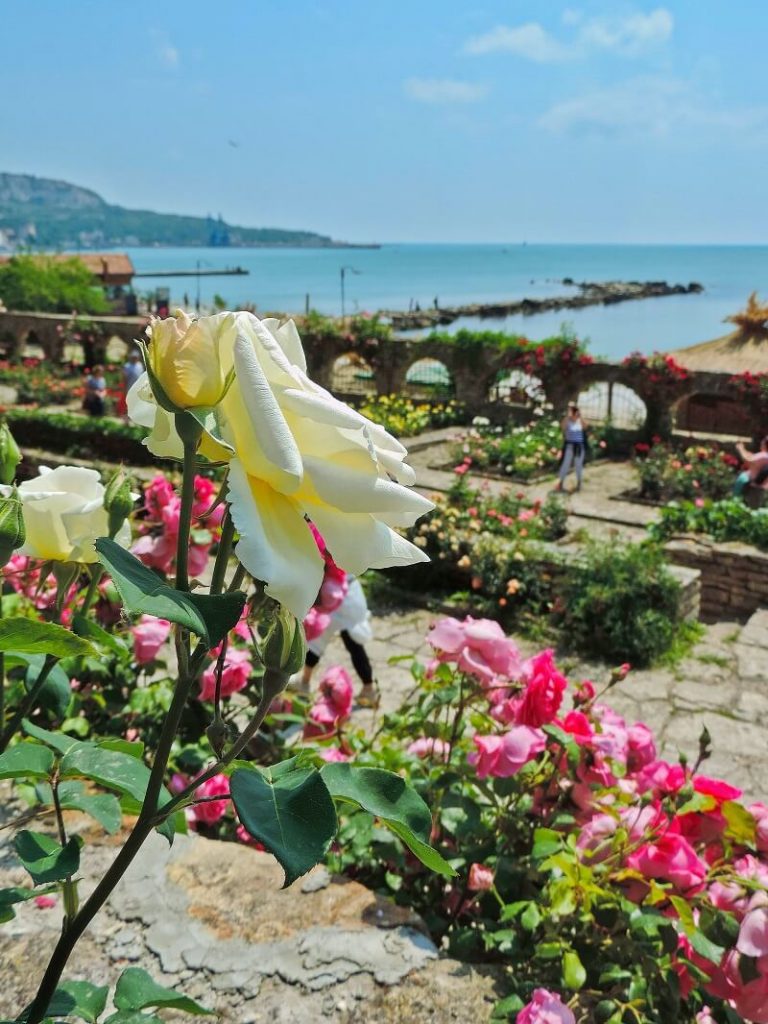 Botanical garden
The park of the palace complex and former summer residence is now a botanical garden, a branch of the St. Kliment Ohridski Botanical Garden of Sofia University. The garden was built on 65000 square meters, using local stone and in harmony with the terrain – it has terraces, waterfalls, canals, alleys and tunnels. With its mild climate and abundant water resources, the park is a perfect home of more than 3000 species of plants, collected from the Mediterranean islands, the Pacific Ocean and Black Sea coasts, South Asia and America. One of the garden's main attractions is the collection of more than 250 cactus species, the second largest collection in Europe. The whole exhibition is impressive, not only for its diversity, but also because it has over 400 globally protected species.
Opening hours
May – August: 08:00 – 20:00
September: 08:00 – 19:00
October: 08:30 – 18:00
November – April: 08:30 – 17:00
Entrance tickets
Adults – 8.00 BGN
Students and pensioners – 3 BGN
Children under the age of 7 – free of charge
Disabled people – free of charge
Guide in Bulgarian language – 12 BGN
Guide in a foreign language – 18 BGN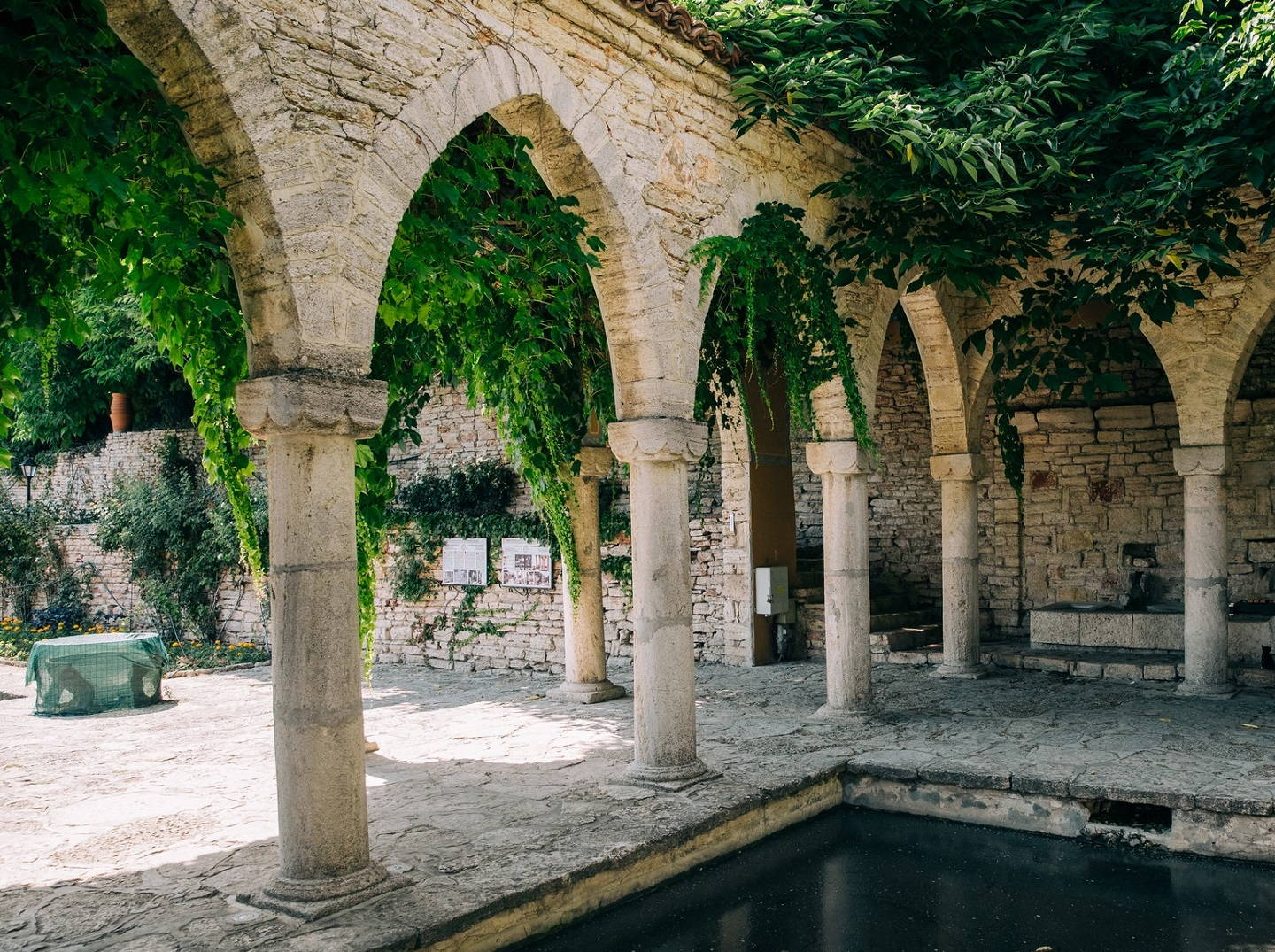 Balchik Tuzla
About 5 km east of Balchik, there are 2 adjacent seaside salt lakes with a mud resort, called the Balchik Tuzla. Their water is very salty, the salinity is between 28 ‰ and 160 ‰. The lakes were formed by huge landslide blocks, detached from the Dobrudzha Plateau, blocking the area from the sea.
Over the centuries, a large amount of mud accumulated on the bottom of the lakes. The healing properties of the Tuzla mud have been known and used since the 18th century. Every year, the mud layer increases by 5-6 mm, forming about 200 tonnes of new mud annually.
Used as a balneotherapy resource, the mud is highly mineralized (over 35 g/kg), with a significant content of chlorides, sulfates and magnesium in soluble form. The mud is gray to gray-black and greasy. Since 1955, there is a hospital for rehabilitation to the east of the lakes using their mud. It specializes in the treatment of diseases of the musculoskeletal system, peripheral and central nervous system, skin diseases and metabolic diseases.
Part of the shallower lake functions as a "mud beach" where visitors can cover their bodies with the healing substance. There are also some restaurants north to the lake.
Thermal mineral springs were also discovered here with warm (33 °C) and slightly mineralized water.
Location
Balchik (BG: Балчик) is located 36 km north of Varna, 12 km north of Albena resort and 53 km south of the Romanian border. It can be accessed from road No. 9 (international road E87). There are public transport buses running several times a day between Varna and Balchik, the journey duration is around 50 minutes.
Quick facts – Balchik
Province: Dobrich
Municipality: Balchik
Population: 12579
Postal Code: 9600
Phone area code: 0579